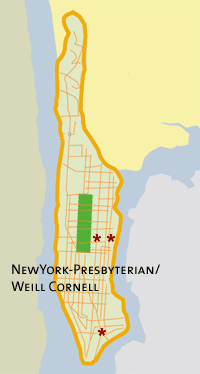 Maps and Directions
Weill Cornell Center for
Reproductive Medicine & Infertility
Donor Egg Program
1305 York Avenue
6th floor
New York, NY 10021
Telephone: (646) 962-3447
Fax: (646) 962-0362
evm2007@med.cornell.edu
By Subway
Take the #6 train to East 68th Street. Walk four blocks east to York Avenue, or take the M66 bus eastbound to York Avenue.
By Bus
Take the
M31
to the East 69th Street stop, directly in front of New York Presbyterian/Weill Cornell. (The M31 operates north and south on York Avenue, and across town on 57th Street.)
Crosstown buses M30, M66, and M72 allow you to transfer to the M31 at York Avenue.
By Car or Taxi

Google Map Directions
The driveway entrance to the 1305 York Avenue is on the west side of York Avenue, between 69th and 70th Street. Parking is by valet in a garage beneath the building. Taxis can enter on York and exit onto 70th Street.

Approaching from the south: Take the FDR Drive northbound to the 61st Street exit. Make right onto York Avenue and go north to 69th Street. (entrance between 69th and 70th St)

Approaching from the north: Take the FDR Drive southbound to the 71st Street exit. Make left onto York Avenue and go south to 70th Street (entrance between 69th and 70th St)